Beyond Boudoir
Fine Art Nude by Cami Zi Photography
Embrace Your Beauty And Strength In A Whole New Light
Unleash your confidence and grace with our exclusive Fine Art Nude Sessions!
At Cami Zi Photography, we believe every woman deserves to be celebrated in all her glory. Let's to do so with a timeless, elegant art piece that showcases your unique essence.



Why Beyond Boudoir? What is Fine Art Nude?
Fine art nude photography has a long history, dating back to ancient Greece and Rome, where the human form was celebrated in sculpture and painting. Fine Art Nude Portraiture is beautiful, elegant, timeless and empowering because the goal is not to "please others", its a celebration of self.
Confidence is the ability to feel beautiful without needing someone to tell you.
What is the Difference between Fine Art Nude and Boudoir?


Boudoir photography typically involves capturing intimate and sensual images of an individual in a private setting, such as a bedroom. The aim of boudoir photography is often to create a romantic or a provocative atmosphere and to evoke a sense of intimacy between the subject and the viewer. Boudoir photographs are often created as a gift to partners.
Fine art nude photography, on the other hand, is a genre that is focused on celebrating the human form as an art. Fine art nude photographs are meant to capture the beauty and form of the human body in a tasteful and artistic way. These photographs are typically more focused on composition, lighting, and aesthetics than on creating a sense of intimacy. The aim of fine art nude photography is to produce a beautiful, timeless and meaningful work of art.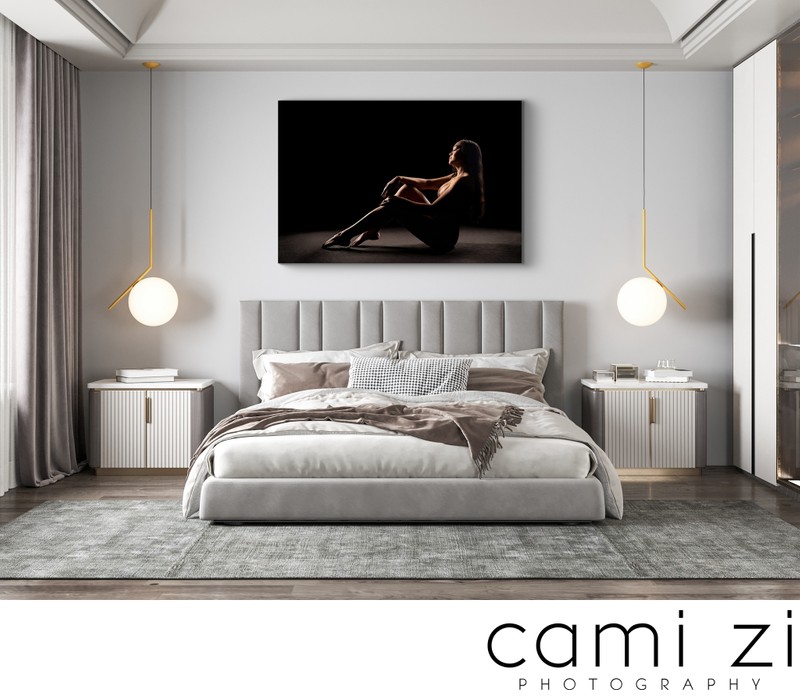 Do I need Modeling Experience?


Absolutely not. We will take our time, work with you by giving you full guidance on posing, from head to toe and using masterful lighting skills to create the most stunning shapes and lines to celebrate your unique beauty.

We will remind you to breath, and do our very best to help you feel comfortable.
When is the best time to do a Fine Art Session like this?


Theres no such a thing as best time. You deserve to be celebrated throughout every stage in your life. We've been led to believe that the 20s and 30s are the prime years of your life, but I argue that your 40s, 60s and 80s are just as exciting and filled with their own exhilarating moments.

Have you gone through life changes? Have you overcome something that is worth celebrating? Have you achieved that goal personal or professional goal that you worked so hard for? Yes, you have have that goddess/warrior spirit that will shine thorough in a artistic way.
Every single woman featured on my website is a mother, wife, grandmother, professional, and those images are not about age, are about embracing their beauty and power.
"Body confidence doesn't come from trying to achieve the perfect body. It comes from embracing the one you already got".


How Can I Display these in my home?
We will together create masterpieces, that can be displayed in your bedroom, bathroom and closets. You can have a dedicated room at your home that helps your renergize, and reconnected with your beauty and power when you have a tough day.
We can prioritize anonymous crops (where no one can identify that is you in the wall art) or keep it private by creating a collectors box or album, that is for your eyes only, that you pull it out whenever you need a reminder of the goddess you are.
Pricing Information
Our session fee is $800, it includes a pre shoot consultation, your session (we reserve the studio for a full 3 hours for your portrait experience, so that we can take our time in case you need time to feel comfortable and adjust to poses without feeling rushed). Your session fee includes a private reveal appointment held on a second date - where you return to the studio so that we can go over all your images.
Your session fee also includes your first 10" matted portrait and we will be happy to give you detailed pricing information on our consultation.
Do you want to feel empowered, beautiful, and unstoppable? Do you want to capture a moment in time that you can cherish for a lifetime? Then, join us on this exciting journey.
Contact us to schedule a consultation, we would love to learn more about you.