FREQUENTLY ASKED QUESTIONS


We don't usually dress up! Can't we wear jeans?
Take a minute to scroll through our gallery. You'll notice every family dressing according to their own unique style. Some families do choose to wear jeans, and there are many ways you can make that look amazing. If jeans are your go-to option, we recommend dark color jeans, and maybe add a dress or sports coat to the mix.
But here's something to consider: Wardrobe in portraits is not about prestige or fashion. It's about taking time and care to do something for yourself, and for the people you love. We want you to be comfortable, but I'm guessing you will not regret taking some time for self care in putting together your best looks. Most of my clients like to dress in comfy clothes daily (I'm probably sitting somewhere in some right now) - but portraits are powerful reminders of those you love. You will be glad you spent some extra time now on something you'll keep for years.
Who can I include in my session?
Please feel free to include grandparents or other special family members! We love when multiple generations come in. Furry family members are also welcome here.
We'd like to sensitively mention that if you're feeling the absence of a loved one, we can find a way to honor them in the portrait. Special jewelry or other symbols may be included, I've also had someone hold a picture of a loved one who recently passed. There are photos on this website that have special symbols in them, some are only known to that family. If it's meaningful to you, we can include it.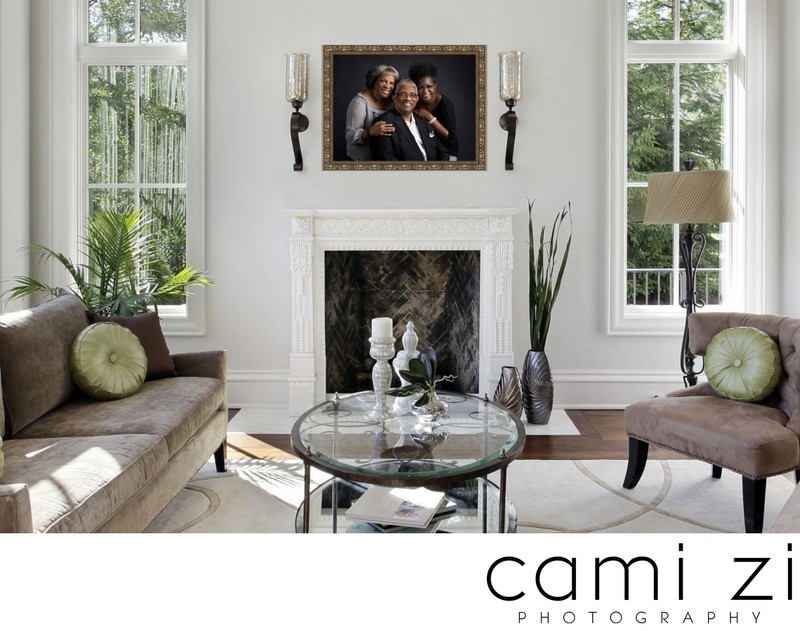 What if my kids don't cooperate easily with photos?
We have extensive experience working with children, all children are wholeheartedly welcome here. (Our founder, Cami, once worked at Disney World photographing thousands of families - we have tried-and-true methods for helping kids make great portraits.) The photos on this website turned out the way they did because children were given relaxed space to be themselves - and yours will too.
I know it's hard to take my word for it, so here is what other moms said about their experiences:
"When we got there she was so warm and welcome, and the kids took a shine to her immediately." - Ashley R
"I cannot recommend Cami enough! She did family portraits for me and I had a tiny 2 month old baby who wouldn't stop crying and a crazy 2 year old who wouldn't sit still. Cami was SO patient and creative and made my kids feel so comfortable that they were able to take some great pictures. Her work is so beautiful and high quality and every single person who has walked in to my home and seen it hanging up has complimented it!" - Ambrosia O.
"Cami was extremely patient with my daughter who didn't want photos taken. Cami was working her magic to make it fun for both my kids so we could get some really good and nice photographs. I highly recommend Cami and can't wait to go back for more photos in the future." - Rae K
"My son had fun during the photo session and after!" - Yuliya B
"Very patient with my children." - Amberleigh M
"Cami does amazing work and did so great with my 2 and 4 year old. The portrait was absolutely amazing and better than we could have ever imagined!" - Heather T
"The vibe of the sitting was so relaxed and fun. She made it so easy and quick. The only thing that was so hard was trying to find the best picture because all of them turned out unbelievable!!" - Terri K.
"We had such a great experience at the studio with Cami! She took so many great photos of our little one and made the session so fun!!" - Alyssa J
"You guys! Go see Cami! JUST DO IT!" - Vallie B
How long does a portrait sitting last?
Plan to spend about 2 hours with us, start to finish. Studio sittings include your ordering appointment, so you'll be completely done by the end, with your artwork headed in for production!
How do I order my wall art?
Right after your session, you'll take a quick break while I select the very best images for you to select from. You can change into more comfortable clothes during this time. Then, I will display your images in real wall size. No guessing about which size you want! You'll be able to see different sizing, cropping, and framing, and I'll be here to support you, offer suggestions, and give you everything you need to make your choices. After all, this is a piece that will stay in your family for generations!
All decision-makers must be present for this part of the session, as the selection process is done the same day, on site, and only purchased files are stored for final edits and printing.
What is the current turnaround time from viewing images to picking up my order?
It typically takes 6-8 weeks from full payment to having the prints in your hand.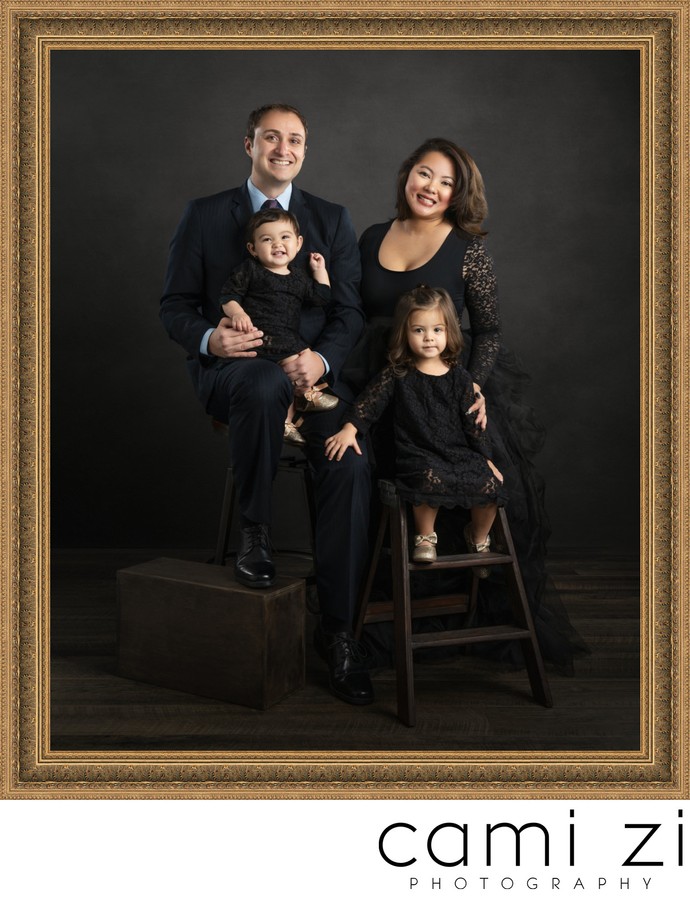 The Price
The Portrait Session $500 and it covers our time. If you decide to make a purchase, that amount is fully credited towards your purchase.

We specialize in wall art but also offer albums and collectors boxes made specially for those to treasure variety and adore more than one portrait.


The cost of fine art pieces vary; starting at $500 and can go over $6,500-. The amount you choose to spend depends on what you are looking for and what you would like to achieve. Be confident that you will get a result that is ideal for you.


What if something comes up and I need to reschedule?
We require a one week notice. We know some things come up like family emergencies or illness; contact us at 850-780-8820 at your earliest convenience to be rescheduled.
What if the weather is bad?
Good news: Weather makes no difference. This is the benefit to booking a studio - we can keep your appointment, rain or shine! You'll have a private, air-conditioned space the whole time you're here.
This all sounds great. How do I book?
Call me at 850-780-8820, or email us at hello@camiziphoto.com. We will schedule a consult before your session to make sure you have all the planning help you need.
What is your Cancellation Policy?
At the moment you reserve your spot, we save that day and time for you, turning down all other commissions. Therefore we do require 7 days notice for reschedules. One reschedule allowed (given proper 7 day notice). No shows and last minute cancellations result on the loss of your booking fee.