Family Portrait Photographer Serving Fort Walton, FL
With wonderfully made photographs, you can preserve the essence of who your family is. A Fort Walton area fine art family portrait photographer is on hand to assist you in capturing your greatest cherished memories and the people you adore.
Finding a portrait artist that can express the warmth and feeling of your family in an attractive way is not always simple. We appreciate the significance of keeping stories alive, and our goal is to produce gorgeous high-quality fine art images for families like yours. With our carefully curated portrait photography, you will be able to create memories that last forever.
You will have a beautiful, timeless family portrait

Create lifelong memories with your spouse, parents, and children

We would be delighted to collaborate with you regardless of where you reside

Capture the essence of your family in one beautifully made photograph

Get a gorgeous high-quality artwork that tells your story for generations
Fine Art Family Portrait Artist — Cami Zi
Fine-art photography allows for an intimate look into the personal moments of your life. It doesn't require any dialogue or narration, as it tells its own story without words--capturing emotional experiences through pictures that are often more powerful than anything.
Cami Zi Photography is a one-of-a-kind family indoor photography business in the Fort Walton Area of Florida. We provide a creative touch to help you create lasting memories for years. Cami Zi pays meticulous attention to every detail throughout the process before, during, and after your session.
We are confident that your family portrait will be preserved for all eternity and handed down to future generations due to our experience of +10 years and dedication to excellence.
The Indoor Photography Studio Experience
I've shot over 500 weddings in the last ten years, and I'm now I have started my very own studio. As my clients' families expanded, so did their demand for an exclusive experience that could be found nowhere else. I love my job because each time I see a new family come in, it's like we've known each other for years.
Families of all sizes feel comfortable and at ease as soon as they walk through the doors to this beautiful space, where their worries melt away as they dress up in their finest outfits.
Here are some of the benefits of my Gulf Breeze portrait studio:
Climate-controlled environment – this is a fantastic location for indoor shots. We guarantee that you will be comfortable in our temperature-controlled setting.
Easy parking – best possible choice if you want an easy-to-find, well-lit, open-air indoor photography studio.
Privacy – intimate photographs. Our studio is the ideal spot to have your family pictures taken since we provide top-of-the-line seclusion and handle everything so that your family can relax and be themselves.
Time flexibility – whether you want a shot during the day, in the afternoon, or at night, we've got you covered.
Pets are welcome – the location is easily accessible, so bring your best friend (dog or cat) with you on the family portrait session. Of course, they can be included in the portrait too.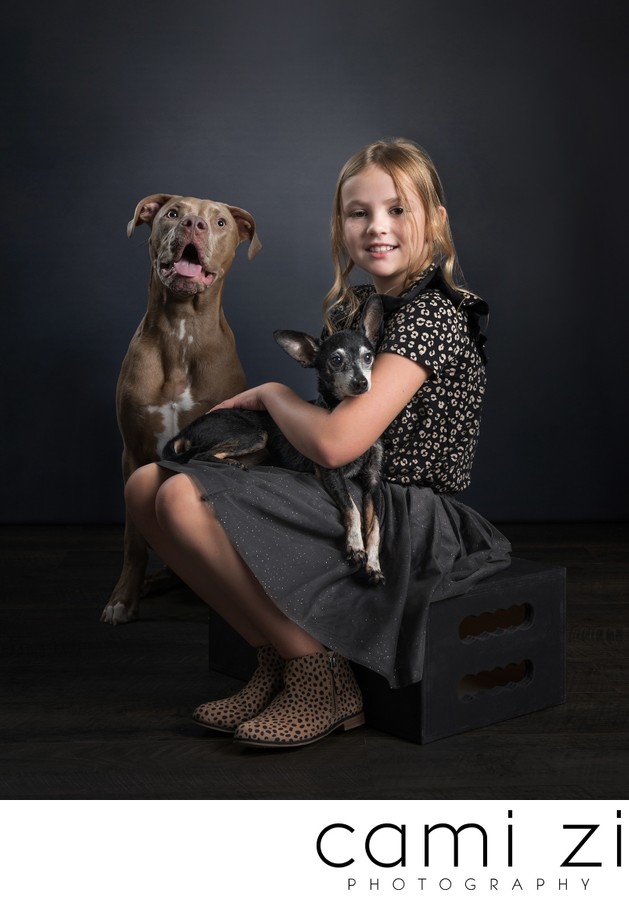 Top-rated Portrait Photography Studio Serving Fort Walton
Cami Zi Photography is a highly regarded photography studio that specializes in capturing your family's timeless beauty. Our objective is to preserve your most cherished experiences for eternity. We'll work with you to develop a unique portrait session that meets your wants. We can help you tell your tale through lovely photographs that will be loved for a long time.
You deserve more than another photograph on your wall, and you deserve to have a wonderful experience. That is why my staff strives to deliver exceptional client service from start to finish so that each interaction with us is pleasant and stress-free. Cami Zi Photography offers top-notch family fine art portraits in the Fort Walton, FL area.
We want our clients to feel confident that they made the best decision when choosing Cami Zi Photography as their family photographer. Allow us to handle all of your family's precious portraits. Make an appointment with Cami Zi Photography today.