Your Gulf Breeze Florida Fine Art Family Portrait Photographer
Portraits are one of the most powerful types of photographs out there. A beautiful heirloom family portrait can be passed down through generations, perfectly immortalizing your one-of-a-kind family forever.
The problem comes when those special moments come, those once in a lifetime experiences that we want to remember forever, they go away, they're those moments that we tend to overlook if we're not paying enough attention, and just like that they're gone, never to be seen or thought of again.
That's where we come in. We are here to showcase the one thing that truly matters about that photo: YOU, and the people in it. Regardless of whether we're shooting a single-person head shot or a more complex family portrait, the people in the portrait are all that matters at the end of the day.
Our portrait artist, Camila Grudzinski (Cami Zi) herself, has won several different awards over the years, capturing the purity of the moment with each and every single photo she took.
If you're looking for a family portrait photographer then see for yourself whether we are the perfect choice for you, and better yet, if you do choose to come in for one of our sessions, you'll be glad to hear that finding our private studio right here in Gulf Breeze, Florida is extremely easy and straightforward.
You'll get convenient, private parking to eliminate any unforeseen hassles on the day of your special portrait session.
Regardless of what style you wish to go for as far as your family portrait goes, we're more than happy to oblige and get you the best service we can offer. We handle individual portraits and of course group pictures as well, for example capturing your child in a solo shot, and then another with the entire family.
If what you're looking for is an indoor professional portrait then look no further, our indoor photography studio is at your convenience at all times.
With our beautiful indoor studio you get unrivaled time flexibility which will ensure that your portrait will look exactly the way you want it to look with the perfect lighting, no matter the time of day, to complement the style you want to portray right then and there.
Regarding pets, do we cover pet portraits too? Of course, we do. Not only that, but we can also include them in your family portraits as well since we know that they're an important part of your family. But if you prefer to immortalize them on their own then we can cover that, too.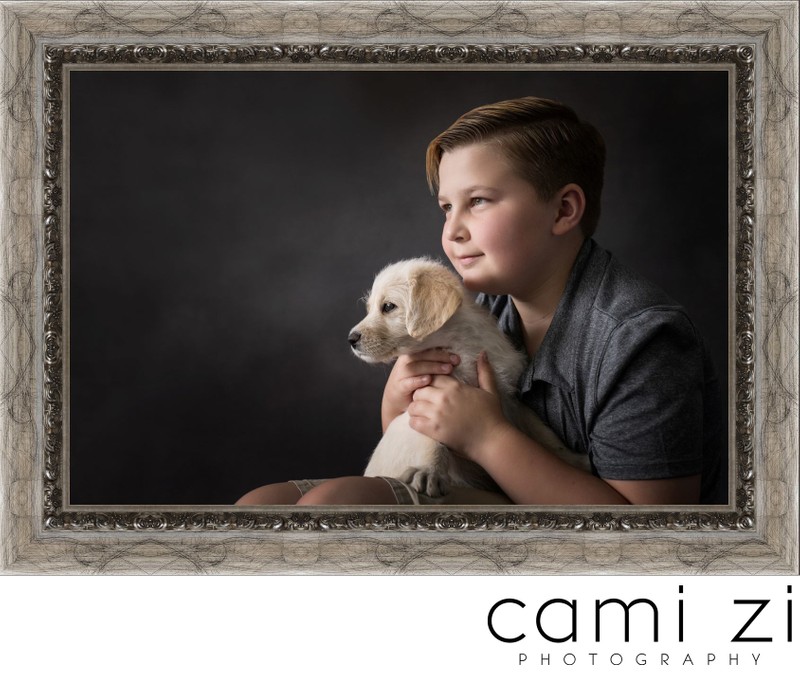 Regardless of whether you want to have a portrait done of yourself, your pets, children, or your family, we will make sure that you have a completely private experience in our studio so you can fully immerse yourself in the process, giving you the attention and care that you so truly deserve.
There's a reason as to why we specialize in fine art, luxury family portraits, and that's because we believe your family portrait is more than just a picture, this is art.