Pensacola & Gulf Coast Wedding Photography
---


Gulf Coast Wedding Photography
Pensacola and the surrounding coastal areas have so many amazing places for you to have the perfect wedding day. With white sandy beaches, crystal clear water, and dramatic skies, coastal Florida weddings are unlike events held anywhere else in the USA. The beaches on the panhandle are often described as Florida's best kept secret, as they are less crowded and more peaceful than the beaches of South Florida. The cities on the Alabama coastline are no different, and offer a quiet paradise perfect for romantic getaways.
Florida Panhandle Wedding Destinations
Destinations like Pensacola, Gulf Breeze, Navarre, Fort Walton, and the Alabama Coast are popular choices for weddings because they are quiet, beautiful, and right on the water. Multiple state parks, Fort Pickens Aquatic Preserve, and the Gulf Islands National Seashore are all just a short drive from the restaurants and hotels in town.
Top notch venues offer incredible opportunities for us to create unforgettable wedding photos: places such as Palafox Wharf, Pensacola Yacht Club, 5Eleven, Like Oak Plantation, The Lee House, Sandestin, and Old Christ Church are just a few of the many options in this area of the Gulf Coast.
Wedding Day Storyteller
I will create a beautiful blend of unique photos at your event – from dramatic portraits to heart felt candid moments – while having a whole lot of fun! My goal is to capture images that are elegant and timeless, with realistic, vibrant colors and engaging compositions, that put together, tell the story of your day.

the love of Wedding Photography
I enjoy weddings because they require sharp skills in all areas of photography, plus amazing people skills. We, wedding photographers, are next to our couples from beginning to end of the planning process, and while most vendors have wrapped up their work at the end of the wedding day, the imaging team is just getting started.
Besides the thrill of the big day, and my passion for the art of photography, weddings connect all dots. Being away from home has made me appreciate the love and family interactions from a different perspective. Images are the only thing that will stay with my couples forever. That is so unique and special, and I treasure the responsibility of capturing those images.
I love meeting families and friends, documenting relationships, learning about people, and capturing couples from my unique viewpoint. I revel in the beauty of gathering: hugs, loved ones reuniting, laughter... nothing compares to weddings!


The Wedding Day
Building the perfect wedding timeline is important to maximize your time, so you can get the best photos and spend the most time with your friends and family and new husband or wife!
Weddings are typically divided into four parts: getting ready, the ceremony, the formal photo session, and the reception.
Preparations
This is where the bride and groom are getting ready for the wedding, usually at separate locations. Getting ready photos and portraits are taken at each prep location, as well as family photos and pictures of the bride and bridesmaids or groom and groomsmen. If the couple is doing formal photos together before the ceremony, the prep time would end with the first look, or reveal, when the couple sees each other in their wedding attire and begins the formal photo session.
Ceremony
The ceremony is the reason for the day, and represents uniting two souls in marriage. This coverage is candid and photojournalistic, and I will capture wide venue photos, close up details, and photos of your family, wedding party, and guests.
Formals
The formal portrait session portion of the day, this is where the bulk of the "traditional" images are photographed: the bride and groom with parents, family, wedding party, and together. We can take these portraits at the ceremony or reception location, or head off site to a new spot for photos. If you don't have any ideas, I can suggest some great formals destinations based on what you are looking for, and we can plan to photograph during the best time for photos at your locations.
Reception
The celebration, usually 4-5 hours long, is where everyone can let loose and party. Introductions, first dance, toasts, parent dances, and other formalities happen along side dinner and dancing. This is a great time to get those group photos of your co-workers, childhood friends, college roommates, or anyone else who wasn't in the formal photo session.
At the end of the night, or a little before, we will step outside and create a fabulous portrait to end the wedding album with – maybe a dramatic sunset, or a silhouette against the night sky.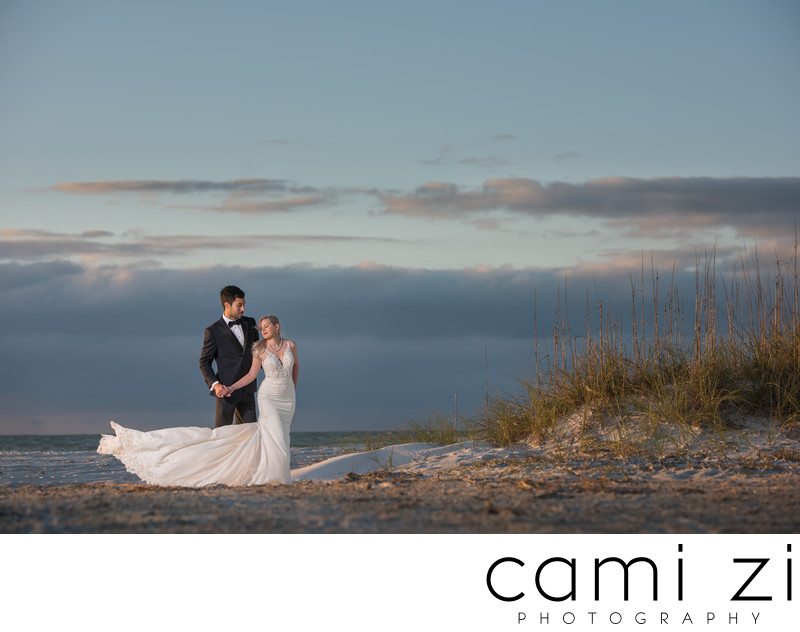 Wall Art and Albums
After a few weeks, we will be meeting again, either in person or via a video call. We will relive your wedding day by reviewing your meticulously curated gallery of highlights, laughing and crying together.

You will be selecting your favorite images and I will be there to assist you all along the way to select the very best products and materials, printed in the highest technology available, that will not only look great on your home but also be passed through generations.

All wall art and album images will receive my master retouching, to enhance the beauty of every capture.

You should not have to even think about printing or how to manage digital files on your own. This what I am here for.