THE PHOTOGRAPHER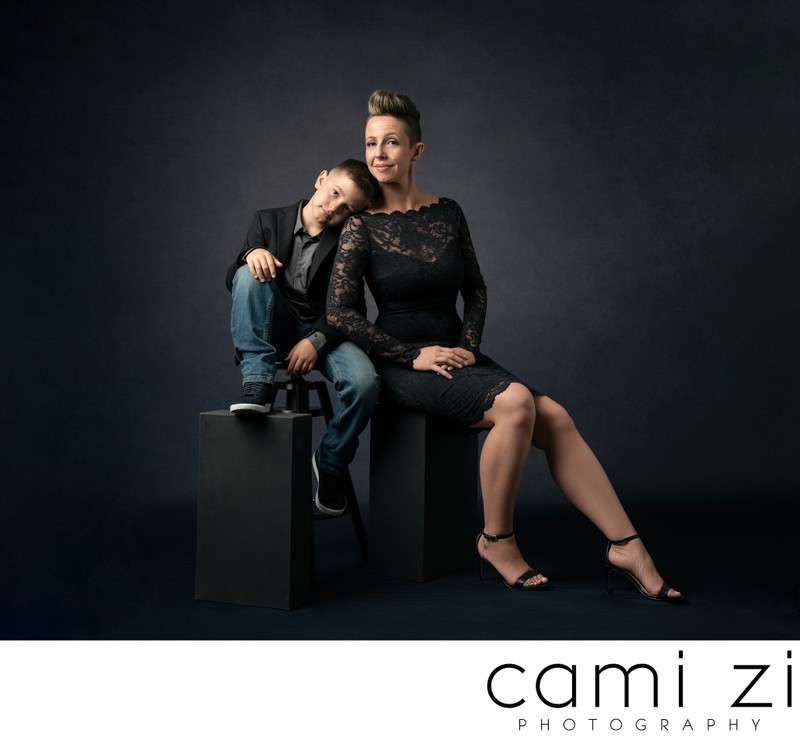 I don't look like this every day. In fact, I never wear heels. But I'm glad I took time to step away, have my makeup done, and sit for this portrait. While the candids I have around the house bring me joy, my formal portrait makes me feel powerful. This one is not about giggles, it's about strength. It's amazing to look at on days that I am exhausted, in my sweats, feeling beat down. It reminds me, right there on the wall, of my infinite power, and that my son can always count on me.
And I have needed that power. People tell me I have all the warmth and friendliness of my native country, Brazil. I did have a rough few final years there, though. I even lived in a construction shack, pretty much homeless by American standards. But I overcame that, won a scholarship in International Business and moved here with a few hundred dollars in my pocket. By 2013 I had my own photography business, and by 2017 I was photographing 75 weddings a year, raising my son on my own, and winning international awards in renowned competitions. Along the way, I worked at Disney World, photographing hundreds of people a day. (You're worried about your toddler running off? I promise, I'm faster than they are.) No matter the dynamics of your group, I can bring out your best.
This journey taught me to treat everyone the same. You just never know what someone is going through, where their path leads them, or what impact a smile, a kind gesture, or a gift can have in their life. It also taught me to appreciate families. Even when things aren't perfect, the people there with you (chosen families and non-traditional families included) mean so much. Life is so hard, and so beautiful. That really is why I don't mind if people don't want to smile in their portrait. Here, you can be yourself; whether you connect more with smiles or with dignified strength right now is up to you. It is tough to raise a family, and you are doing an incredible job. I hope my work will remind you of that.
"We had an amazing experience with Cami Zi Photography! Cami is much more than a photographer. She is a true artist who knows how to perfectly capture the moment and the feeling on canvas. The quality of portrait that she created of our family is outstanding and it will be treasured forever, even when my daughters are all grown up and have families on their own. Cami is very professional, yet very easy to work with. My girls absolutely loved her. If you want to create something truly meaningful for your family or your loved ones, Cami Zi Photography is the best place to go to!!! - L. Suthard